About Us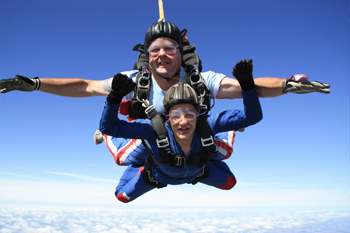 Discover Skydiving Ltd is owned by Dave Luke and has been running for over 20 years. Dave has over 30 years experience in the sport and has been an instructor for over 27 of those years. He has made over 8600 skydives and over 7400 Tandem Skydives todate - making him one of the most experienced tandem instructors in the UK today. Dave made his 1st jump on a round static line parachute in 1986. Since then Dave has jumped at venues all over the world including Diani Beach and the Rift Valley in Kenya. France, USA and other great places. He has also been a category system instructor for 27 years, teaching literally 1000's of 1st time Parachutist on both round and square parachutes.
Dave uses his confidence and experience to help put customers at ease, if you have any questions about Skydiving, feel free to contact us here.
Dave loves his work and has knowledge and experience of all aspects of skydiving from night jumps to camera work.
Why book with us?
We value our customers and have a solid foundation (20 years in the business). I believe in simple honest pricing. I do not hide any costs in the small print, or call you after you have booked to tell you there is a fuel surcharge to pay. These are just two tricks I have heard some companies have done. We have never made a surcharge, or hidden the cost of the BPA membership of £30.00 for you to pay (in addition to the price quoted) on the day you arrive.
When the former RAF centre at Weston on the Green (Skydive Weston) got into difficulties the management took a lot of money from customers for skydives, training courses and videos to be done and then declared the company bankrupt causing people and charities alike to lose a lot of money. All my customers that had elected to jump at that centre (and it was a great centre) had the choice to come to another centre or have a full refund. Not one of my customers or charities lost a penny. The 2 former owners of that business now each run booking agencies. Buyers beware!

"I have seen many Skydiving companies come and go, we have stood the test of time by giving excellent value with reliable honest advice and information to our customers. We do not make false claims or promises! We do not hide costs in the small print. Having worked at centres for many years I have seen people that have booked through other companies both surprised and disappointed when they are asked to pay charges hidden by other companies such as the £30.00 BPA membership or a "fuel Surcharge". To date, we have never charged anybody an extra payment on the day after 15 years we don't intend to start now."

Dave Luke BPA no. D8743