Skydiving Vouchers
Skydiving vouchers make the ideal gift for any special occasion. This is one present, you can be sure, will create an impact and a surprise!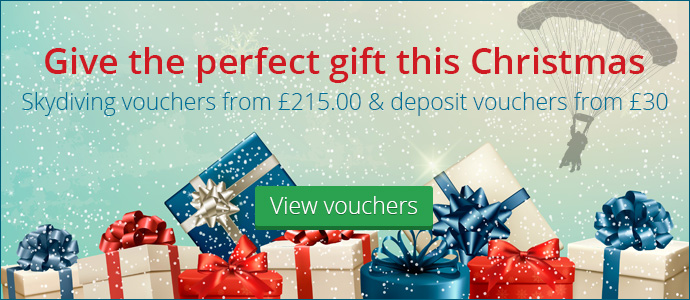 All gift vouchers sold will be valid for 1 year form the date of Issue. If for any reason you don't complete the voucher within the 12 months there is an option to extend the voucher for a further 6 months for a small fee. As most companies only give 9 - 10 months on a gift voucher and NO option to extend we know we offer great value and service.
All vouchers are posted 1st class Royal Mail in a plain white envelope so we won't spoil the surprise! We post all voucher the same day, (this may be after the last collection depending on the time of booking, so you will normally receive the voucher within 2 postal days. (This can be slightly longer at peak times).
Most people purchase a voucher open dated (Date To Be Confirmed) so the recipient can choose their own jump date. However we know some customers like to set the date when booking for a birthday, anniversary etc. so you also have the option to set the date at time of purchase.
Deposit Gift Voucher
Many people prefer this option. You can simply purchase a Deposit Gift Voucher for the normal deposit price of either £25 - £60 depending on which centre / offer you would like or is available at the centre you select the jump to take place from. The balance being paid on the day of the skydiving course. So you can get all of the impact of the gift without paying in full. Now that's a Bargain!

Special Occasions
Why not treat a friend or family member to a once-in-a-lifetime experience by purchasing a Skydiving Voucher to celebrate a birthday, wedding anniversary, graduation or any other memorable event. You can book a specific date for the jump to take place and we will do the rest. To discuss this further, please go to the contact us page and we will be pleased to answer any questions you have.
Choice of Skydiving Jumps
The purchaser of the voucher can choose any one of the following Skydiving packages:
Tandem (these are the most popular gift)
Please click on any of the above jumps to find out further information.
How to buy your Skydiving Voucher
Book online
To book online, please go to the 'Buy Gift Voucher' link on the right of this page or go to the locations page in the menu above. Once you have chosen your jump location, you will be asked to complete and submit a form along with your payment. You can select either a 'Deposit Voucher' or 'Pay in full Voucher'.

By Post
If you do not wish to pay online, then you have the option to download a booking form which you will need to complete and return to us with the relevant payment. Our address can be found on the Contact Us page.
Whether you book online or by post, the voucher(s) will be sent by post to the purchaser. If the addresses for both purchaser and recipient are the same, we will use a plain envelope.
Terms and Conditions
Please see Terms and Conditions here.